Finance Options for

Handling Equipment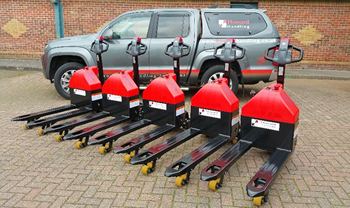 Howard Handling has over 20 years' experience of supplying pallet trucks, lifters and handlers to many different industry sectors.

We can say with confidence that good quality handling equipment, backed up with regular servicing, is the cheapest way to run a fleet.

But good quality equipment is not purchased cheaply and can represent a significant financial outlay for businesses, particularly if multiple pallet trucks and handlers are needed.
Financial options developed for customers with handling requirements
However large or small your company, we are able to offer a financial solution and provide the equipment you need with terms to suit your requirements.

Contract Hire
The off-balance sheet option offers a great tax advantage in providing equipment you need without the need to purchase. Benefits are no capital outlay, you get a fixed rate covering finance and maintenance leaving you to focus on your business and us to manage your equipment.

Lease Purchase
Also know as hire purchase, Lease Purchase allows you to finance over a period of time helping to spread the cost of purchasing your equipment with the benefit of ownership at the end.

Service & Total Management
Our finance solutions offer total flexibility for managing your fleet with the added benefit of Preventive Maintenance and Full Maintenance to cover service, parts and call-outs.