Logitrans Mover
Electric Pallet Truck, 1500kg
Lithium technology
Discharged battery can be replaced in seconds, to extend operating time in busy applications
Very low battery weight 4.5kg - perfect for delivery vehicles
Fast charging time of 2.5 hours
Keyless pincode panel
2 year warranty
Fork Size
(mm)
Lift Height
(mm)
Availability
Net Price
(GBP)
Buy Now
540 x 1150
195
3-5 Weeks
£ 1,790
Logitrans Mover Electric Pallet Truck, Lithium-Ion Battery, 1500kg
The Mover from Danish material handling experts Logitrans, is a fully powered pallet truck, equipped with a maintenance free lithium battery. With a capacity of 1500kg, it is perfectly suited for light and medium duty pallet handling applications. All Logitrans equipment is backed up with a 2 year parts warranty.

The battery weight is only 4.5kg and the Mover has small dimensions, making it an extremely compact truck. Within two seconds the battery can be exchanged. Re-charging takes only 2.5 hours, with a long operation time between charges.

Logitrans put their focus on ergonomic working conditions for the operator. The Mover has an ergonomically correct handle, with soft grips and a smooth handle return to vertical position. The Mover has an integrated PIN code panel with LCD display and status indicator. This ensures an easy control and operation.
An alternative Logitrans Panther Maxi is available for larger pallet weights of up to 1800kg and medium-heavy duty pallet handing applications.
PERFORMANCE
Capacity 1500kg
Maintenance free lithium battery
Electric lifting and lowering
Electric top stop
Slow speed function (turtle mode)
LCD display - battery indicator, operating hour, error codes
Keyless with integrated pincode panel
2 year warranty
UTILISATION OF SPACE
Small battery and frame dimensions (very compact pallet truck)
Operates with the handle in upright position
SAFETY

Emergency button, horn
Foot protection
Stability wheels and entry rollers
LITHIUM BATTERY
Maintenance free
24V/20Ah
Battery weight only 4.5kg
Very easy and fast to exchange the battery (within two seconds)
Fast charging - only 2.5 hours (inboard and outboard)
Long operating time between charges
Please feel free to
contact us
for further information
Logitrans Mover Electric Pallet Truck, Lithium-Ion Battery, 1500kg
| Technical Data | Unit | Info |
| --- | --- | --- |
| Model | | LM1500 |
| Operator Type | | Pedestrian |
| Lift Type | | Electric |
| Load Capacity | Kg | 1500 |
| Net Weight (including battery) | Kg | 125 |
| Dimensions | Unit | Info |
| Lowered Height (Forks) | mm | 80 |
| Lift Height | mm | 195 |
| Fork Span | mm | 540 |
| Fork Length | mm | 1150 |
| Individual Fork Width | mm | 160 |
| Overall Width | mm | 540 |
| Overall Length | mm | 1530 |
| Length without forks | mm | 380 |
| Turning Radius | Wa mm | 1330 |
| Aisle width (Euro Pallet: 800 x 1200) | mm | 2000 |
| Wheels | Unit | Info |
| Fork Roller Material | | Vulkollan |
| Drive Wheel Material | | Vulkollan |
| Drive & Performance | Unit | Info |
| Drive Motor Power (Kw) | kw | 0.65 |
| Travel Speed, loaded/unloaded (Kmh) | Kmh | 4.6 / 4.8 |
| Max Gradeability on slopes, loaded / unloaded | % | 6 |
| Battery Type | | Maintenance Free Lithium |
| Charger Internal or External / Rating | | External 24V - 15A - 230V |
| Lift Speed with/without load | m/ s | 20 /25 |
| Lowering Speed with/without load | m/ s | 50 /40 |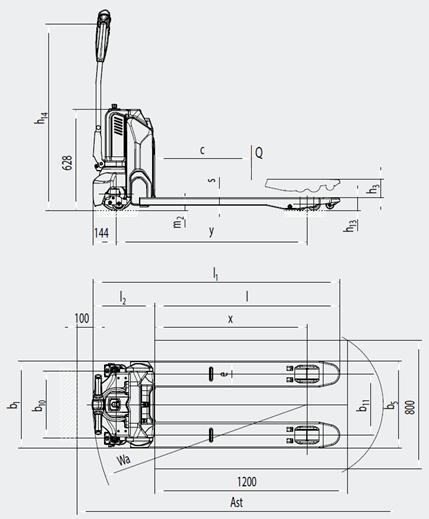 Awaiting videos, please check back soon