E-Truck Terrain, 2000kg
Electric Pallet Truck, Uneven Ground
Large 2 tonne lift capacity and powerful 48V motor
High gradeability and ground clearance: ideal for ramps, slopes, inclines, gradients and uneven ground
Lithium-ion battery: can be easily exchanged with a fully charged replacement, for multi-shift operations
Small, compact design
Fork Size
(mm)
Lift Height
(mm)
Info
Availability
Net Price
(GBP)
Buy Now
540 x 1170
220
2000kg
3-5 Weeks
£ 4,335
Powered Pallet Truck for Ramps, Slopes & Uneven Ground
E-Truck Terrain WPL201 2000kg
PRODUCT
The E-Truck Terrain from EP Equipment has been designed for medium to heavy duty distribution and warehouse pallet handling applications.
APPLICATIONS
With a powerful 48V brushless motor and a lift height of 222mm, the E-Truck Terrain has twice the power and more than an inch of extra lift, compared with other electric pallet trucks in its class. This makes it idea for handling heavy pallets and for applications involving uneven ground, ramps, slopes and inclines. The lithium-ion battery can be easily removed and exchanged with a fully charged replacement, so it is also a good choice for multi-shift operations.
FEATURES
Maintenance-free lithium-ion battery with pull-out design for easy exchange
High gradeability and ground clearance, for use on ramps, slopes, inclines and uneven ground
Large 2 tonne lift capacity
48V brushless motor
Higher than standard lift height of 222mm
Modular plug and play components, for easy maintenance and reduced maintenance costs
Strong, durable frame
Small, compact design: optimised for use on delivery vehicles and in confined spaces
Ergonomic handle with control buttons positioned to allow operation with either hand
LCD display showing battery status, operating hours etc
Replacing a hand pallet truck with an electric pallet truck eliminates operator pushing, pulling and pumping of heavy loads. It prevents staff sickness and injuries associated with manual handling.
Please feel free to
contact us
for further information
| Technical Data | Unit | Info |
| --- | --- | --- |
| Model | | WPL201 |
| Operator Type | | Pedestrian |
| Lift Type | | Electric |
| Load Capacity | Kg | 2000 |
| Net Weight (including battery) | Kg | 250 |
| Dimensions | Unit | Info |
| Lowered Height (Forks) | mm | 82.5 |
| Lift Height | mm | 222.5 |
| Fork Span | mm | 540 |
| Fork Length | mm | 1170 |
| Overall Width | mm | 645 |
| Overall Length | mm | 1592 |
| Turning Radius | Wa mm | 1428 |
| Aisle width (Euro Pallet: 800 x 1200) | mm | 2050 |
| Aisle width (UK Pallet: 1000 x 1200) | mm | 1850 |
| Ground Clearance | mm | 27 |
| Wheels | Unit | Info |
| Fork Roller Material | | Polyurethane |
| Drive Wheel Material | | Polyurethane |
| Drive & Performance | Unit | Info |
| Drive Motor Power (Kw) | kw | 0.75 |
| Travel Speed, loaded/unloaded (Kmh) | Kmh | 5 / 5.5 |
| Max Gradeability on slopes, loaded / unloaded | % | 8 / 16 |
| Battery Voltage/Capacity A/h | V / A/h | 48 / 30 |
| Battery Type | | Lithium-Ion |
| Lift Motor Rating | Kw | 0.84 |
| Lift Speed with/without load | m/ s | 0.023 / 0.029 |
| Lowering Speed with/without load | m/ s | 0.037 / 0.027 |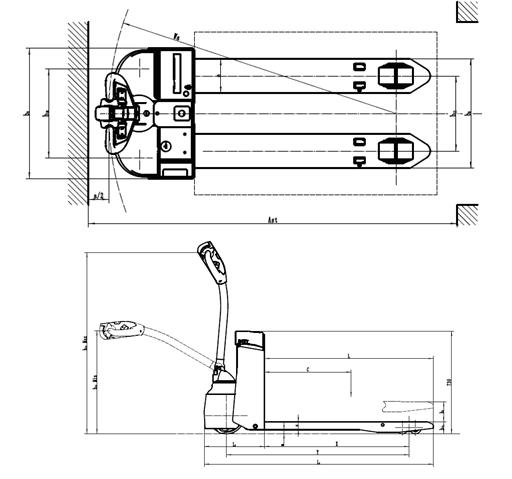 Awaiting videos, please check back soon