Logitrans LF Mini
Manual Stacker Truck, 1000kg
Very high quality stacker from Danish manufacturer Logitrans
Manual lift and propulsion
Quick lift pump fitted as standard
Optional adjustable forks: can be detached and replaced with other attachments, for multi-tasking
Extra long and extra short fork lengths, for non standard pallets
2 year warranty
Fork Size
(mm)
Lift Height
(mm)
Info
Availability
Net Price
(GBP)
Buy Now
Adj x 1150
920
3-5 Weeks
£ 1,775
680 Adj x 1150
920
for UK Chep pallets
3-5 Weeks
£ 2,140
Adj x 1150
1650
3-5 Weeks
£ 2,100
680 Adj x 1150
1650
for UK Chep pallets
3-5 Weeks
£ 2,465
560 x 600
920
3-5 Weeks
£ 2,955
560 x 600
1650
3-5 Weeks
£ 3,280
560 x 800
920
3-5 Weeks
£ 2,955
560 x 800
1650
3-5 Weeks
£ 3,280
560 x 1520
920
Capacity 750kg
3-5 Weeks
£ 2,955
560 x 1520
1650
Capacity 750kg
3-5 Weeks
£ 3,280
Logitrans LF Mini, Manual Stacker Truck, Wrapover Forks, 1000kg
For the ultimate multi-tasker, look no further than the Logiflex from Danish manufacturer Logitrans. Available in manual, semi-electric and fully powered versions, with one truck you can lift a pallet, transport a reel and move a heavy machine. High flexibility and efficiency - this stacker can transport, lift and handle many types of goods.
Built to excellent European standards, all Logitrans equipment is backed up with a 2 year parts warranty.
Customise your LF Mini: bespoke fork sizes and fork types are available for handling non standard pallets, box pallets, crates, stillages, dolavs and IBCs. When using an LF Mini with an adjustable fork carriage, the forks can be easily detached and replaced with other attachments (eg boom spear, crane arm) for multi-tasking.
With wrapover support legs, this pallet stacker is designed to handle open pallets, via sides where bottom runners are not present. If your are lifting closed pallets (with bottom runners), then a straddle stacker will be required. The Mini is perfect for shops, offices, retail, manufacturing and warehouse operations, and in packing and production areas: allowing many different tasks to be performed with one machine. A stainless steel version is also available for high care areas in food production, chemical and pharmaceutical applications.
Logitrans put their focus on the safety and ergonomic working conditions of the user. The Mini can be adjusted to the individual user, and the low overall height gives the operator optimum view conditions. No damage to surroundings, pallets and goods – Logiflex has an elegant design with rounded corners.
Features:
Manual lift and propulsion with choice of lift heights
Wrapover forks for handling open pallets (via sides without bottom boards)
Optional adjustable carriage: forks can be easily detached and replaced with other attachments (eg crane arm, boom spear) for multi-tasking
Optional 680mm adjustable carriage: designed for wider UK Chep-style pallets (size 1000mm x 1200mm)
Higher lift heights with electric lift, powered drive and 1200kg capacity are also available
Compact construction and tight turning angle: perfect for confined areas
Low over-all height for optimum operator view
A straddle version is available for handling closed pallets with bottom runners
This model can be customised with bespoke fork widths & fork lengths, to handle many different pallet types.
This model can be customised with other bespoke attachments (eg boom spear, crane arm) to suit your specific requirements
2 year warranty
Please feel free to
contact us
for further information
Logitrans LF Mini, Manual Stacker Truck, Wrapover Forks, 1000kg
| Technical Data | Unit | Info |
| --- | --- | --- |
| Model | | LF MINI |
| Operator Type | | Pedestrian |
| Lift Type | | Manual |
| Load Capacity | Kg | 1000 |
| Net Weight (without battery) | Kg | 219 / 254 |
| Dimensions | Unit | Info |
| Lowered Height (Forks) | mm | 85 / 145 (adjustable carriage) |
| Lift Height | mm | 920 / 1650 |
| Fork Span | mm | 560mm / Adjustable 350 - 560 / Adjustable 350 - 800 |
| Fork Length | mm | 600 / 800 / 1150 / 1520 |
| Overall Width | mm | see brochure |
| Overall Length | mm | see brochure |
| Overall Mast Height (Lowered / Lifted) | mm | 1330 / 2025 |
| Length without forks | mm | 415 |
| Wheels | Unit | Info |
| Fork Roller Material | | Nylon |
| Steering Wheel Material | | Nylon |
Tailor-made solutions are also available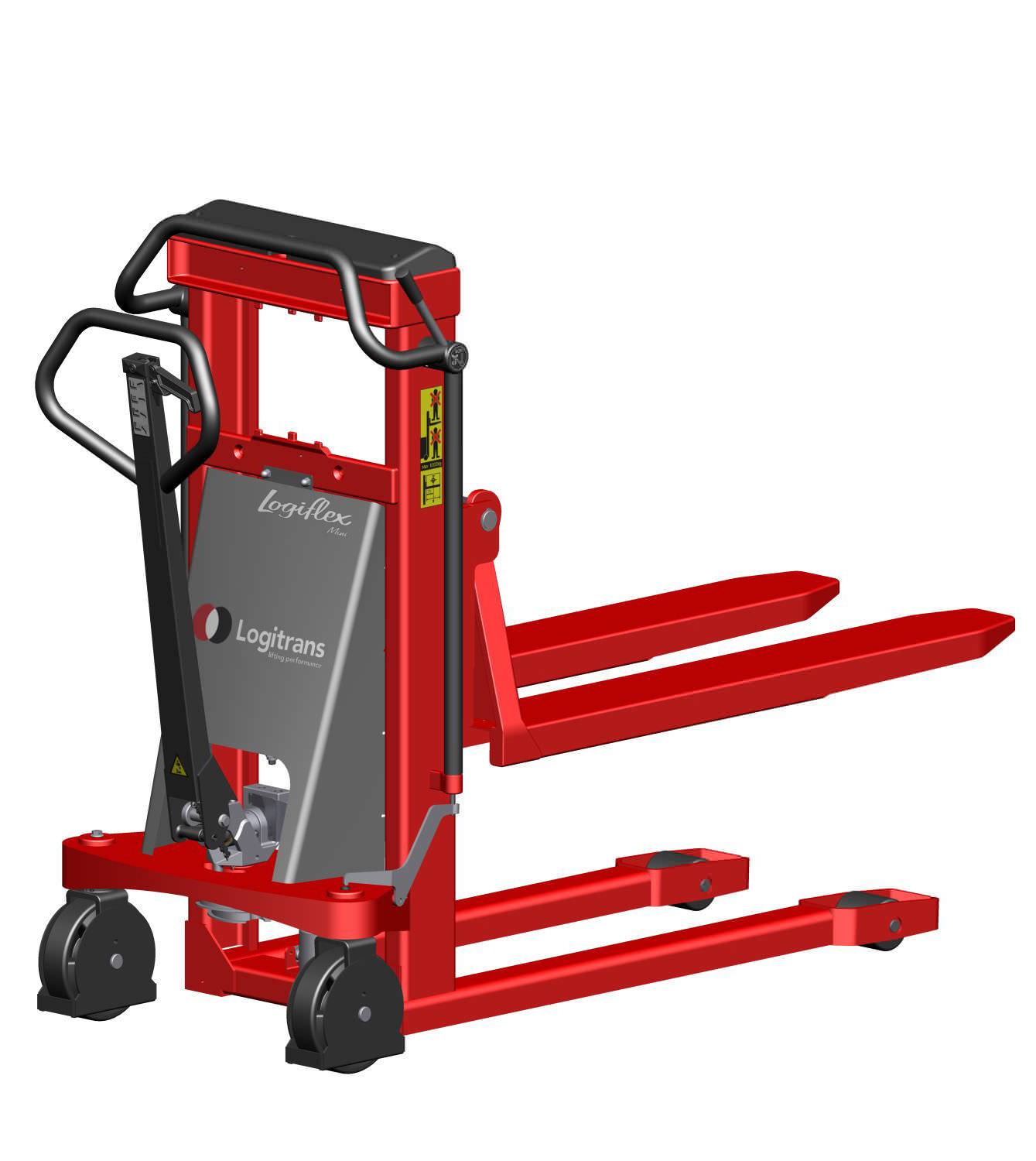 Awaiting videos, please check back soon