Medical & Mortuary Handling Equipment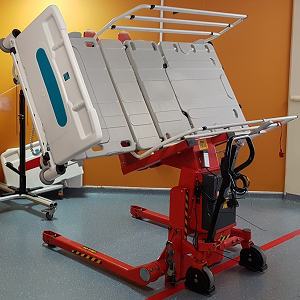 Hospital Bed Tilter

A Logitrans Tilt is here used to lift and tilt hospital beds for maintenance purposes.

This particular Tilt truck has electric lift and tip, to reduce operator effort and prevent back, shoulder and muscle strains.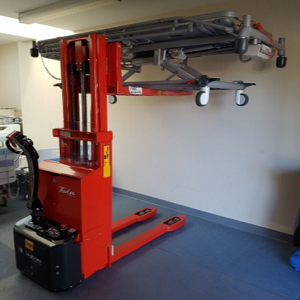 Hospital Bed Lifter, Vertical Lift

A Logitrans Twin Stacker is used in a hospital setting, to lift hospital beds when carrying out maintenance. The support legs act as a second set of initial lift forks, so the bed lifter can be manoeuvred over small ramps & bumps and on uneven floors. Small dimensions - the stacker is small enough to go through a standard doorway.

This particular stacker truck has electric lift and lower and powered forward and reverse drive - so bed handing requires no operator effort.

It can multi-task as a powered pallet stacker and is useful for unloading lorries and other delivery vehicles, eliminating the need for a forklift truck.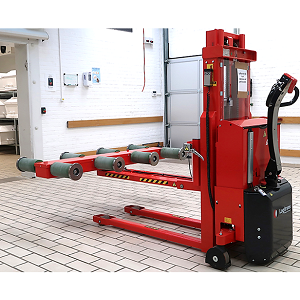 Casket & Coffin Handler

A Logitrans powered coffin handler is fitted with powered rollers and has 360 degree rotation, for precise and gentle movement of coffins and caskets.

The coffin handler lifts, turns and transports coffins up to a maximum weight of 300kg (47 stones).

This handler has fully powered lift, lower, slide and propulsion: preventing worker back and strain injuries at mortuaries, crematoriums and funeral directors.