Custom Bespoke Handling Equipment

We supply exceptional quality pallet trucks & pump trucks, as well as scissor lifts, pallet stackers and crate tilts, turners & tippers. Suitable for all industry sectors including manufacturing, food, pharmaceutical and wet & corrosive environments. Our lifters and handlers can be customised with special fork sizes, or fitted with other attachments including crane arms, platform tables and reel & drum clamps. They can be built with custom bespoke features, to suit your specific handling requirement. Boxes, crates, dolavs, IBCs, Eurobins, tote bins and many other goods can be accommodated. Stainless steel and explosion proof lifters (for ATEX zones 1 & 2 hazardous environments) are also available. Please contact us to discuss your application.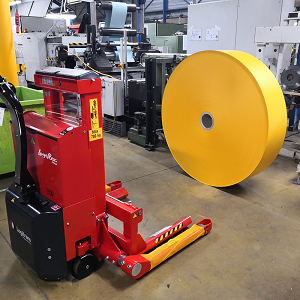 Logitrans Logiflex, Reel & Drum Forks

A Logitrans SELFS Maxi electric stacker truck is fitted with reel & drum forks and used in a printing application. The Maxi transports and lifts the reels, which are then loaded onto the printing machines.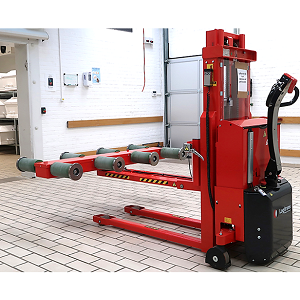 Casket & Coffin Handler

A Logitrans powered coffin handler is fitted with powered rollers and has 360 degree rotation, for precise and gentle movement of coffins and caskets.

The coffin handler lifts, turns and transports coffins up to a maximum weight of 300kg (47 stones).

This handler has fully powered lift, lower, slide and propulsion: preventing worker back and strain injuries at mortuaries, crematoriums and funeral directors.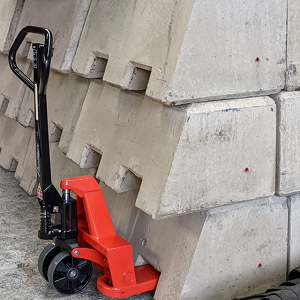 Pallet Trucks for Marquee Blocks

500kg marquee weights are here handled with a bespoke pallet truck, with extra wide and extra short forks. The fork length is small enough to allow the blocks to be stacked against each other in storage areas. The truck is also fitted with tandem fork rollers, for better handling on uneven outdoor surfaces. As an option, the pallet truck can be fitted with a brake.

These hand pallet trucks can be built to handle almost any size of marquee block: please contact us to discuss your requirement.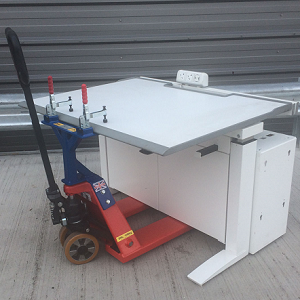 Office Desk Lifter

A low profile hand pallet truck is fitted with a customised plate and clamps, to lift and transport office desks.

This particular model is a four way pallet truck. It moves forwards, backwards and sideways, so that the desks can be easily manoeuvred and positioned in tight spaces.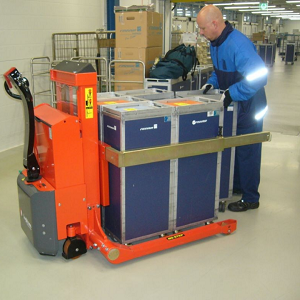 Logitrans Stacker - Airline Trolley Mover

A Logitrans SELFS1001 fully powered stacker is modified with bespoke arms for moving aircraft service trolleys in a distribution centre.

The stacker is available is manual, semi electric and fully powered versions.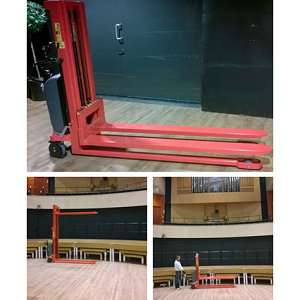 Electric Stacker Truck, 2000mm Forks

A Logitrans ELF electric pallet stacker is built with a long fork length of 2000mm and used in a concert hall, to lift and transport equipment.

Our range of stacker trucks can be customised with extra long & short, extra wide & narrow forks for unusual handling applications.

Manual and fully powered versions are also available.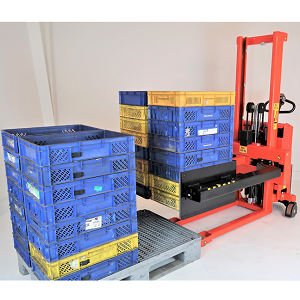 Crate Palletiser / De-Palletiser

A Logitrans Reel Rotator is modified with custom bespoke support arms and used to de-palletise, lift and transport stacks of crates. This fully powered lifter transports 2 stacks of crates at a time. The arm width is adjustable, so that different crate sizes can be handled.