Electric Pallet Trucks, Rotators & Tilts, Manufacturing Handling Equipment

Our range of lifters turners, tippers and handlers are perfect for manufacturing and production industries, helping customers to provide a safer working environment. Design focuses on the safety and ergonomic working conditions of the user. High quality is ensured through an extended test programme, in co-operation with experts in Health & Safety.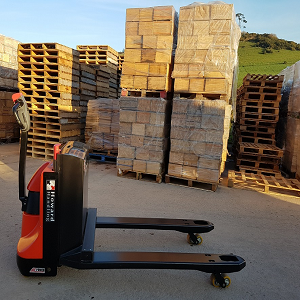 Walkie 2 Tonne Electric Pallet Truck

An E-Truck heavy duty walkie electric pallet truck, with extra wide and extra long forks is here used in a farm production and transport application, to move large non-standard pallets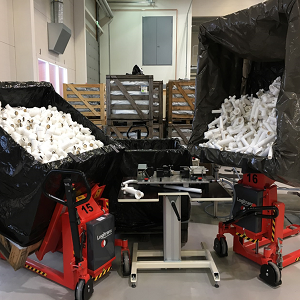 Electric Tilt Truck

These electric crate tilts are used here by a component manufacturer to check the finished product and pack them. The Tilt lifts and elevates crates of components to a correct working height for the operator.

They prevent the need for bending and stretching and thus help to eliminate back, shoulder and muscle repetitive strain injuries.

This particular Tilt truck model has a height that can be adjusted for both sitting and standing work positions.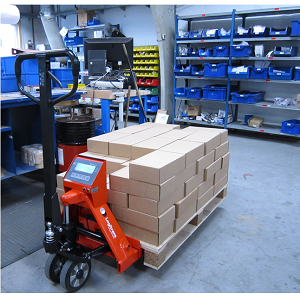 Logitrans WSP2200 Pallet Truck with Weighing Scale

A WSP2200 hand pallet truck with a weigh scale is used in a component manufacturer, to count components as they are packed. This particular pallet truck scale has four load cells for a high accuracy of 0.1% of the applied load.

The weighscale has tare function (gross and net weights), counting, summation of several weights and zero functions.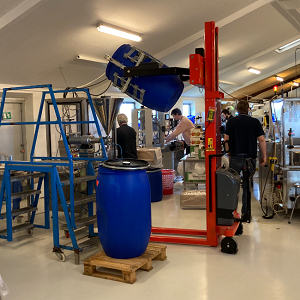 Logitrans ELF1001 Electric Stacker

A Logitrans ELF1001 stacker is incorporated into a production line. It is used to collect finished products from a roller conveyor, transports them to the warehouse and lifts the goods into racking.

Logitrans stackers are available in manual, semi-electric or fully powered versions.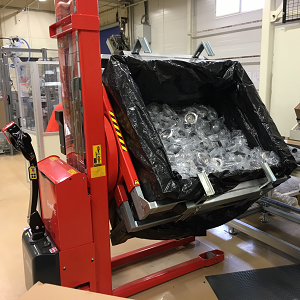 Logitrans Rotator

A Logitrans Rotator with side tilting forks, is used in a manufacturing application. The Rotator lifts and tilts crates of components to an ergonomically correct working position, allowing the operator to easily access to them. In this environment, the Rotator prevents operator strains and injuries associated with repeated bending and stretching.

Rotators are also useful for emptying crates - the forks can rotate 180 degrees each way.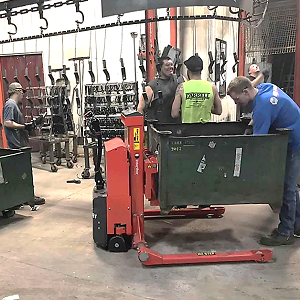 Logitrans Powered Stacker

An electric pallet stacker is used to lift pallets and crates off a mezzanine floor. Pedestrian stacker trucks have small dimensions and are useful in confined areas where a traditional forklift truck would be unsafe to use.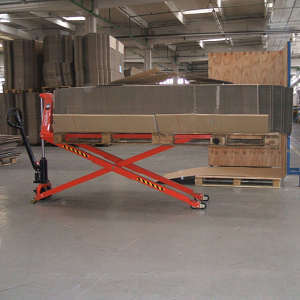 Logitrans HL1006 Manual High Lifter

A Logitrans HL1006 Highlifter is used for lifting pallets to correct working height, as they are loaded and packed with boards.

The scissor lift in this application has extra long forks, for handling non standard sized pallets.

A High Lift pallet truck prevents operator strains and injuries associated with repeated bending and stretching. The Logitrans model is available with optional level control, which automatically adjusts the pallet to optimum working height, as the pallet is loaded or unloaded.

The Logitrans range includes electric pallet trucks, hand pallet trucks, work positioners and stacker trucks which are perfect for the manufacturing and component industry.

Pallet stackers are compact, manoeuvrable and are available in many different sizes and options. Pallet stacker trucks can be used as an alternative to forklift trucks and provide a safer work area. These trucks have small dimensions for confined areas and a compact mast, which gives the operator excellent visibility.

Logitrans tilts & rotators are useful for lifting, turning and tipping boxes, crates, dolavs, pallets and other items. Tilt crates or boxes and reach the contents without stretching and straining. Rotators can tip and completely empty boxes and crates, reducing production times and increasing operator safety.

Crate turners and rotators give the operator easy access to the items at the bottom of the box. They reduce strain on the back, shoulders and joints and prevent the need for sideways bending and stretching. We have many options available and customised products and sizes can also be provided.