Electric Pallet Trucks, Pallet Trucks, Transport Handling Equipment

Electric pallet trucks for pallet networks and tail lift deliveries in transport & distribution industries:

Our electric pallet trucks have powered lift and propulsion. They can be used on the back of a lorry, for moving pallets on and off the vehicle tail lift and into customer premises. A fully powered pallet truck provides a cost-effective alternative to a hand pallet truck. Electric pallet trucks require no operator effort and prevent operator strains and injuries, particularly when loads are moved up slopes, inclines & driveways. Our pallet lifters can handle loads in excess of 1000kg and are useful for handling stone, tiles, slates & building materials. These pallet trucks assist delivery drivers and help to make customer deliveries safer.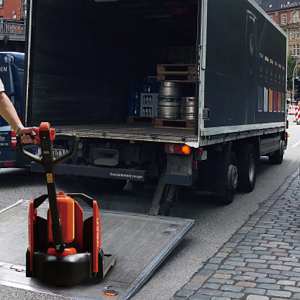 Logitrans Lithium Electric Pallet Truck

The Mover electric pallet truck with lithium battery technology, from Danish materials handling experts Logitrans is ideal for use on delivery vehicles and lorry tail lifts, where the pallet truck weight and size must be kept to a minimum.

With a pull-out battery, a discharged battery can be replaced in seconds with another battery to extend operating time in busy applications. It can also be operated with the handle in an upright position, for use in very confined spaces.

Large lift capacity of 1500kg
Battery weight of only 4.5kg
Battery charging time of only 2.5 hours
Keyless pincode panel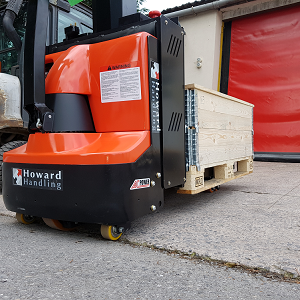 Twin Stacker with Higher Ground Clearance

An E-Twin stacker is here used by food manufacturer to unload delivery vehicles and tranport the pallets up an incline into the warehouse.

This initial lift pallet stacker has higher ground clearance than a standard stacker and can therefore be manoeuvred over bumps, small kerbs and ramps without the stacker grounding-out and getting stuck on uneven ground.

The stacker's support arms also act as a second lower set of forks, allowing 2 pallets to be moved at the same time.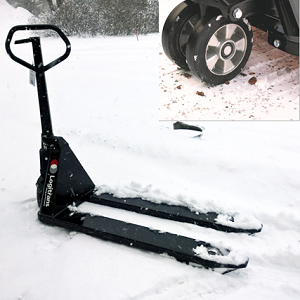 Logitrans Panther Silent

A Panther Silent hand pallet truck is here used in the snow. The specially designed soft compound wheels provide superior grip in wet and icy conditions, making it perfect for outdoor deliveries and use on vehicle tail lifts in transport & distribution industries.

The wheels are virtually noiseless, which also makes the Panther Silent ideal for early morning deliveries in residential areas.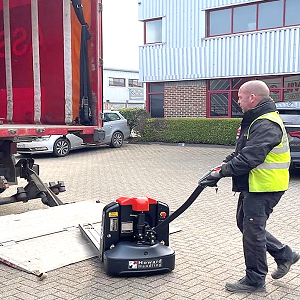 E-Truck

The E-Truck electric pallet truck has small dimensions and is the perfect solution for the transport industry; for use on lorries and for tail lift work.

This powered pallet truck has 1500kg lift capacity and has a low service weight of 210kg.

The truck is fully powered (electric lift and propulsion) and can be supplied with an optional unit, which allows for charging on the vehicle.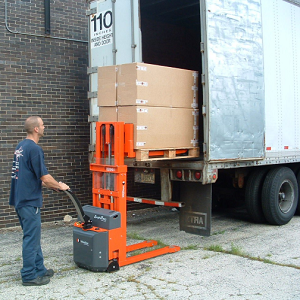 Logitrans SELF Mini Powered Stacker

A Logitrans SELF Mini fully powered stacker is used for loading and unloading lorries. The stacker is able to transport and lift open pallets (without bottom boards).

Powered pedestrian walk behind stackers are ideal for use in confined warehouses and loading areas, where traditional forklift trucks pose a safety risk.

A SELF Maxi is also available with lift capacities of 1 and 1.2 tonnes and higher lift heights up to 3 metres.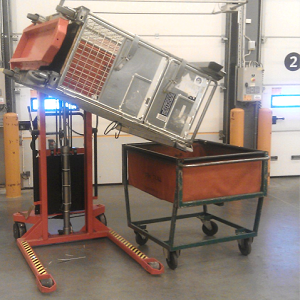 Logitrans Rotator

A Logitrans Rotator is used in mail sorting application. The Rotator is modified with a customised side tilting plate, in order to lift, turn and empty parcel cages.

The Rotator is available in both semi electric and a fully powered (lift and propulsion) versions.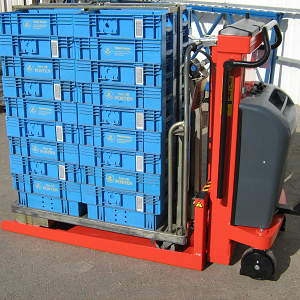 Logitrans Stacker With Platform

A Logitrans powered stacker with platform attachment is used for transport and lifting goods onto a passenger train. The platform has a lift capacity of 1000kgs.

Logitrans stackers are available in manual, electric and fully powered versions. The platform attachment can be removed and replaced with other attachments (eg forks), so the stacker can multi-task.

We supply high quality electric pallet trucks and offer semi-electric and fully powered pallet trucks in a variety of lift capacities. Some models are light enough to be used on lorries and vehicle tail lifts. Our heavy duty powered trucks can be supplied with easy remove batteries, for double shift warehouse applications where battery rotation is required.

If you are looking to upgrade your manual hand pallet truck to a fully electric model, to reduce operator strain and improve efficiency, our range of electric pallet trucks offers a great choice. The E-Truck and Mini-Mover are strong, compact and ideal for tail lifts, lorries and warehouse environments. The Walkie electric pallet truck is a robust design for heavier applications.