Electric Pallet Trucks, Pallet Stacker Trucks, Warehouse Handling Equipment

We supply high quality pallet stackers for lifting and transporting open pallets and closed pallets with bottom boards. Our manual lifters, electric pallet stackers and fully powered versions are available in a variety of lift capacities.

Pallet stackers are compact and manoeuvrable for light-medium pallet handling applications. Pallet stacker trucks can be used as an alternative to forklift trucks and provide a safer work area. These trucks have small dimensions for confined areas and a compact mast, which gives the operator excellent visibility.

The Logitrans range includes electric pallet trucks, stacker trucks and hand pallet trucks with weigh scales which are perfect for the warehouse.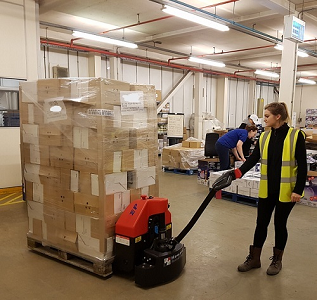 E-Truck Electric Pallet Truck

An E-Truck powered pallet truck is used in a warehouse for transporting pallets of product. It has a large 1.5 tonne lift capacity and electric lift & propulsion - no operator effort is required.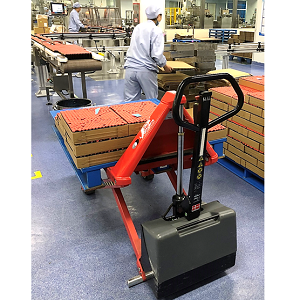 Logitrans EHL1004 Electric High Lifter

Logitrans EHL1004 electric Highlifters are used in a warehouse environment. The High Lifter collects and lifts palletised boxes to a correct working height for packing and labelling.

A scissor lift pallet truck prevents operator strains and injuries associated with repeated bending and stretching. The Logitrans model is available with optional level control, which automatically adjusts the pallet to optimum working height, as the pallet is loaded or unloaded.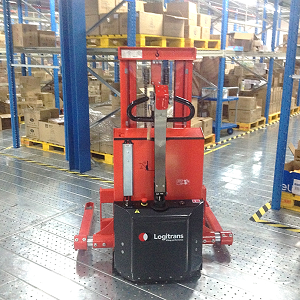 Logitrans ELFS1001 Electric Stacker

A Logitrans ELFS1001 semi-powered stacker is used for lifting and moving closed pallets (with bottom boards) around a warehouse.

Pedestrian walk behind stackers are ideal for use in confined areas, where traditional forklift trucks pose a safety risk.

The Logitrans model is available with lift capacities of up to 1.2 tonnes and lift heights of up to 3 metres. It is available in a manual, electric and fully powered version.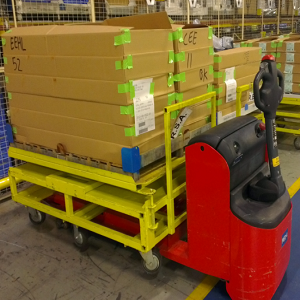 Powered Trolley Mover

An electric pallet truck is modified with a bespoke plate, for lifting and moving trolleys of parts around a distribution centre. Our powered pallet trucks can be modified to handle many different types of loads, including non-palletised goods. Please contact us to discuss your particular application.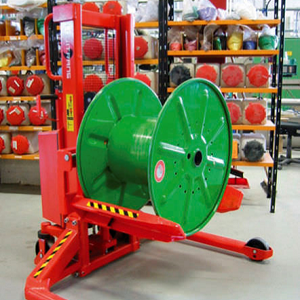 Logitrans Flexline Stacker - Reel Drum Forks

A Logitrans electric stacker is used in a warehouse for lifting and transporting reels.

Logitrans stackers are available with manual, semi electric or fully powered propulsion and the reel drum forks have a lift capacity of 250kgs.

The stacker is fitted with a flexline carriage - the drum forks attachment can be removed and replaced with other attachments (eg standard forks), so the stacker can multi-task.

Pedestrian walk behind stackers are ideal for use in confined areas, where traditional forklift trucks pose a safety risk.

The Logitrans range offers electric stackers for lifting pallets, reels, IBC's and drums which need to be transported in a warehouse.The Logitrans pallet stackers are available with manual, semi electric or fully powered propulsion and provide a cost-effective solution for many applications .