Electric Pallet Trucks & Stackers Engineering & Construction Handling Equipment

Our range of lifters turners, tippers and handlers are perfect for engineering and construction industries, helping customers to provide a safer working environment for employees. Design focuses on the safety and ergonomic working conditions of the user. High quality is ensured through an extended test programme, in co-operation with experts in Health & Safety.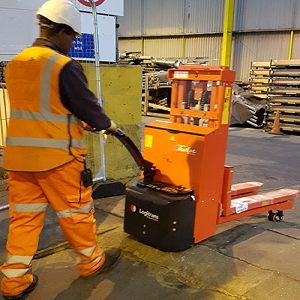 Twin Stacker Truck with Initial Lift

This powered electric pallet stacker has higher ground clearance and initial lift forks. It is here used in a construction industry application, where there are ramps and uneven floors.

The higher ground clearance allows the stacker to be driven over uneven floors, where a standard pallet stacker would ground out and become stuck.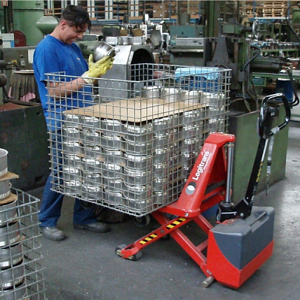 Logitrans EHL1004 Electric Highlifter

A Logitrans electric scissor lift pallet truck is used in an engineering application. The High Lifter lifts crates of components to an ergonomically correct working height, allowing the operator to inspect and pack them once they are machined.

In this environment, the Highlifter prevents operator strains and injuries associated with repeated bending and stretching. The Logitrans model is available with optional level control, which automatically adjusts the pallet or crate to optimum working height, as it is loaded or unloaded.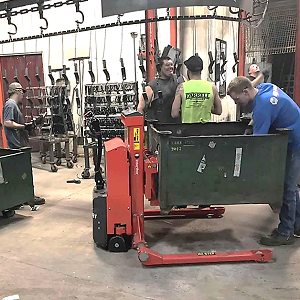 Logitrans SELFS Straddle Stacker Truck

A Logitrans SELFS pallet stacker is used here in an engineering application, to transport and lift crates of heavy components. It has straddle support legs, allowing many different crate and pallet sizes to be handled, including pallets with bottom runners (full perimeter base).
Reel Lifter

A Logitrans LFS Mini straddle stacker truck is fitted with a customised boom spear and used in an engineering application to lift and transport reels.

The Logitrans range includes electric pallet trucks, hand pallet trucks, work positioners, stacker trucks and initial lift pallet stackers, are perfect for the engineering & construction industries.

Stackers are compact, manoeuvrable and are available in many different sizes and options. Stacker trucks can be used as an alternative to forklift trucks and provide a safer work area. These trucks have small dimensions for confined areas and a compact mast, which gives the operator excellent visibility.

Logitrans tilts & rotators are useful for lifting, turning and tipping boxes, crates, dolavs, pallets and other items. They tilt crates or boxes and reach the contents without stretching and straining. Rotators can tip boxes and crates upside down, reducing production times and increasing operator safety.