Stainless Steel Stackers & Dolav Rotators, Food Production Handling Equipment

We supply exceptionally high quality stainless steel hand pallet trucks and pump trucks, both semi and fully stainless scissor lifts, stainless steel pallet stackers and stainless tilts, turners and rotators for food production which are designed for wet and corrosive environments. The Logitrans range of pallet trucks & stacker trucks can be customised with bespoke forks for handling non-palletised items such as crates, dolavs, IBCs, Eurobins and tote bins.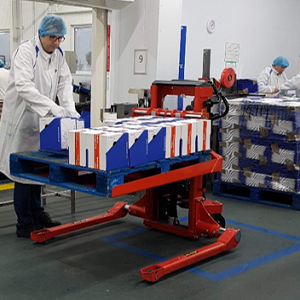 Logitrans LFS Mini With Platform

A Logitrans LFS Mini straddle pallet stacker fitted with a platform table, is used to lift Chep style pallets to a correct working height. The LFS Mini assists operatives packing pallets in a food production environment, and prevents back and shoulder injuries associated with repeat bending and stretching.

This particular packing area was confined with limited room for pallet lifters. Pallets were closed (with bottom runners) and therefore a straddle lifter was needed to lift them - although a straddle stacker was initially ruled out, as they were thought too big for the work area.

Logitrans were able to modify their LFS Mini so it was just wide enough for the pallet. This allowed the Mini to fit within confines of the customer's packing line.

A stainless steel version is also available for food production high care areas.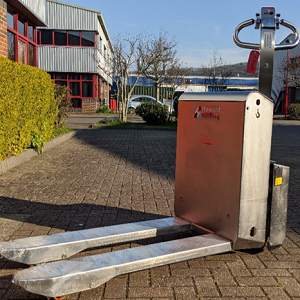 Stainless Steel Electric Pallet Truck

This stainless steel powered electric pallet truck from Danish manufacturer Logitrans, is designed for food and pharma applications with high hygiene demands.

The forks and chassis are manufactured from acid resistant AISI316 stainless steel - no rust if the forks are scratched. The unit has an electro-polish finish, to reduce hiding places for bacteria.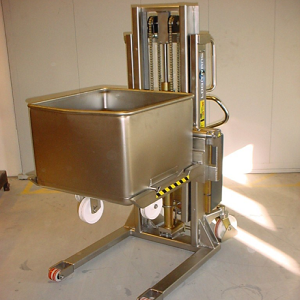 Logitrans Eurobin Lifter

A Logitrans EHSRF stainless steel electric pallet stacker is modified with bespoke V-march arms for lifting and moving 200 litre Eurobin Tote Bins.

Both plastic and stainless steel tote bins can be handled. Logitrans stainless stackers are available in both manual and electric versions and are ideal for food production environments. All surfaces in contact with goods are made from highest grade 316 stainless steel.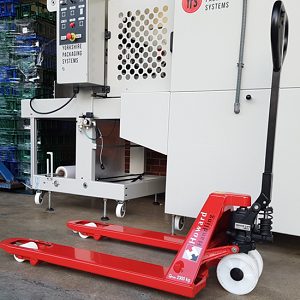 Hand Pallet Truck, Food Specification

A good quality hand pallet truck, with additional modifications to better withstand damp and corrosion, is used at a dairy. Food specification pallet trucks can be fitted with stainless steel grease axles & bearings, and can be supplied with cold store oil, for freezer use.

This particular model has a quick-lift pump, to assist operators by reducing the number of pallet pumps required to lift the pallet.

A food specification hand pallet truck is not a substitute for a stainless steel hand pallet truck. But it may be a more cost-effective alternative, in areas where fully stainless is not required, but where some additional protection is needed.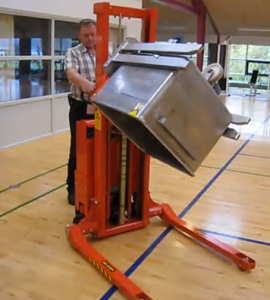 Logitrans Eurobin Rotator

The Logitrans tote bin Rotator is suitable for lifting and rotating 200 litre Eurobins. Eurobins can be lifted and turned through 180 degrees each way, for emptying and filling.

The Rotator can be supplied in both powder coated and stainless steel versions. The stainless steel Rotator is useful for food processing, high hygiene and corrosive environments.

This particular Eurobin turner has powered lift & rotate. A fully powered version (electric lift and propulsion) is also available.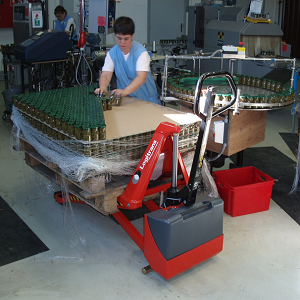 Logitrans High Lift Pallet Truck

This electric High Lifter is used in a food producer's packing area. The Highlifter lifts EUR pallets, allowing the operator to pack the goods at an ergonomically correct working height. It reduces operator bending and stretching and thus the risk of back injuries.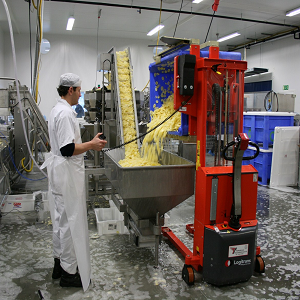 Logitrans Dolav Rotator

The Logitrans Rotator is used in many Food Production sites for safer handling of goods for operators.

Rotators can be used for Pallets, Boxes, Crates and Dolavs.

The Rotator has small dimensions (perfect for confined spaces) and a capacity of 1000 kg.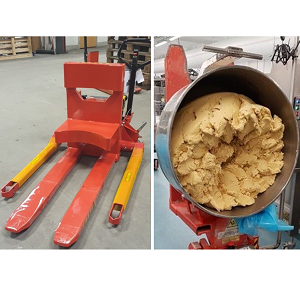 Industrial Mixing Bowl Tilter

A Logitrans Logitilt is modified with a special bracket, to lift and tilt industrial mixing bowls in a bakery.

Heavy bowls of dough can be lifted and tipped up to 90 degrees, allowing bakery staff easy access to the contents.

The Logitilt prevents back, shoulder and strain injuries associated with repeated bending and stretching.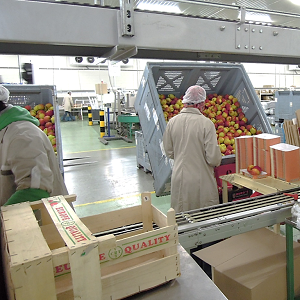 Logitrans Electric Dolav Tilter

The Logitrans electric tilt is used here by a food producer to lift crates to working height, when filling and emptying them.

A tilt prevents the back injuries caused by frequent bending.

Logitrans electric tilts are also available in stainless steel.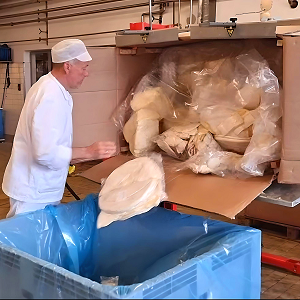 Logitrans Rotator

A Logitrans Rotator with side tilting forks is used in a food production area. The Rotator lifts and tilts crates to an ergonomically correct working position, allowing the operator to easily access the contents.

In this environment, the Rotator prevents operator strains and injuries associated with repeated bending and stretching.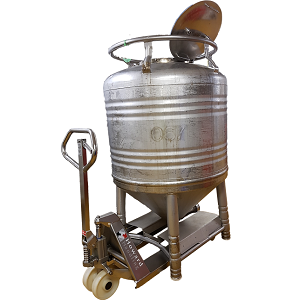 Stainless Steel IBC and Tank Lifter

A stainless steel hand pallet truck is modified with bespoke forks, to lift and move kettles in a food production site.

Pallet trucks are available in both semi stainless, and fully stainless versions.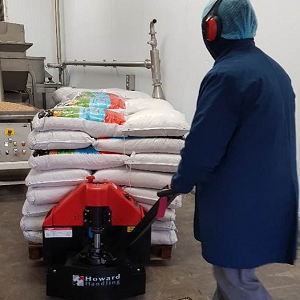 E-Truck Electric Pallet Truck

A powered pallet truck is used to move palletised bags from a packing area into the warehouse, in a food industry environment. This particular model is small enough to be used on a delivery vehicle, is easy to use and has a large 1.5 tonne lift capacity.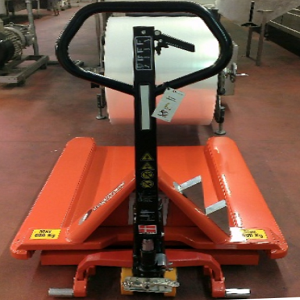 Logitrans Reel Mover

A scissor lift pallet truck is modified with a custom bespoke plate. It is used in a food production application, for moving reels of packaging film and lifting them onto machinery.

The Logitrans stainless steel range is ideal for environments with strict hygiene requirements, clean rooms, wet and aggressive environments. We can also tailor our stainless steel pallet trucks and lifters for non-standard applications.

RF-PLUS products are stainless steel with an electro-polish finish for a very smooth surface, with few hiding places for bacteria. These pallet trucks and handlers can be cleaned and are resistant to cleaning materials with chlorides.

RF-SEMI products are perfect for industries which do not require fully stainless steel pallet trucks and lifters. Parts in direct contact with food and other product are made of stainless steel. Other parts are chromit treated or coated in polymer plastic for protection against moisture and corrosion.